Starborn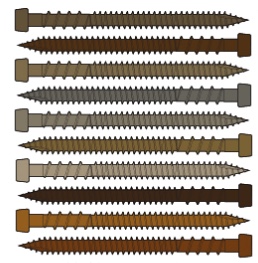 Starborn's Cap-Tor xd screws are designed to meet the highest standards for performance, ease of use and value. Epoxy-based polymer resin coating over zinc plate for excellent corrosion resistance. The adhesion of Deckfast's epoxy coating is one of the very best on the market. Many colors are available to blend with a wide range of composite deck board colors.
Simpson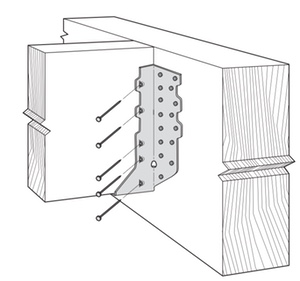 More than a million decks are built and replaced each year in the U.S. However, with the growing number of deck failures, the construction and safety of decks have raised concerns within the building industry. The Simpson Strong-Tie Deck Center is designed to help building and design professionals build safe, code-compliant decks. From finding the right products to navigating through code changes, the Deck Center offers several resources to make building decks easier and safer.
Fastenmaster
LedgerLOK is a code approved deck ledger board fastener that replaces lag screws and through-bolts. View an installation video on this fastener as well as our other code approved screws for wood-to-wood use in our Ask The FastenMaster Section. You can also download our Deck Ledger to Rim Joist technical bulletin in the Code Approvals section.

HeadLOK is a heavy duty flathead wood screw that does it all and won't countersink. HeadLOK offers higher design shear than 3/8" lag screws…and no predrilling is needed! HeadLOK zips right in and is ideal for many wood-to-wood applications including decks, fences, SIPs, kitchen cabinets and more.

The fastest, easiest way to hide the heads of your fasteners on a deck just got better!

Cortex offers a strong connection between the deck board and joist. It hides fasteners across the entire deck, first and last board, perimeter, and stairs

Cortex is available in a 100 lineal foot package, a 100 square foot package and a 300 square foot package. All screws, plugs, and setting tools are included in every box.
Hidfast
FASTEST AND EASIEST HIDDEN DECK FASTENER SYSTEM YOU'LL EVER USE! - What makes the HID-fast system so fast? Pure and simple, there is NO hardware! No screws, no clips, no clamps. How about 30 seconds per board? If that sounds unrealistic, then you need to watch our videos and see for yourself. All you need is our pneumatic tool, a package of HID-fast fasteners, and a our rubber mallet that comes with the tool, and you're ready to go. Now you can install decking 5 times faster than conventional screws, or nails.