Twin Eagle Products
Stylish outdoor kitchens are the latest trend in entertaining. Choosing the right grill and accessories for your perfect backyard entertainment center is important. It's your personal touch to your outdoor kitchen, a reflection of your lifestyle.
Formulated to closely resemble real wood decking, there are slight differences in color and grain pattern from board to board, giving your deck the look of nature with the strength of man-made materials.
Built-in Grills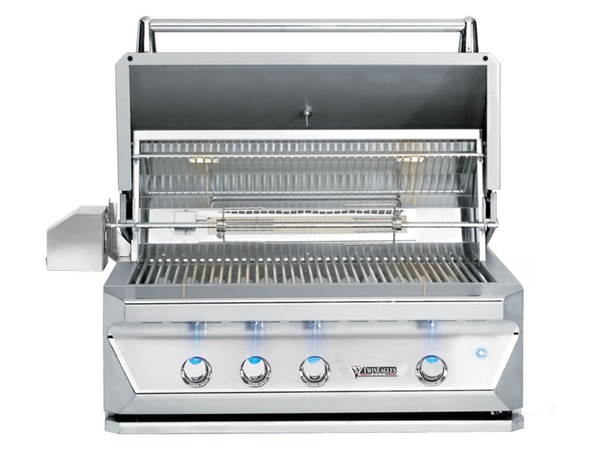 This highly engineered grilling system will elevate your next outdoor grilling experience to new levels of performance.
Our grills feature 3/8" stainless steel hexagonal grates which retain more heat, enabling more heat contact to food for even cooking. Plus, these grates generate deep, dark, professional restaurant-style sear marks.
Concealed heavy duty extension springs allow for easy opening and closing of the hood by reducing the weight load.
Each 25,000 BTU burner is contained to control heat independently from one area to another. You will be able to maintain each zone with a different temperature or effectively cook with only one burner operating.
Two halogen lights illuminate the cooking surface. Advantageous for the evening barbecue, eliminating the need for external lights that may disrupt the ambience of your gathering.
Additional switch automatically turns interior lights off when the grill hood is down to add longer life to your lights.
Decorative blue lights illuminate the control knobs turning your grill into the main attraction, even when not in use. The exquisite hi-polished accents add luxurious refinements to your grill and accessories.
Lighting the gas burners and the rear rotisserie burner just got easier with electric hot surface ignitors. The more reliable ignitors operate by pushing in the burner or rotisserie control knob.
All 30", 36" and 42" grills are available with or without Sear Zone (standard on 54" grill). 25,000 BTUs of Direct Heat will sear your meats faster and deeper to seal in more juices. More juices means moist, more flavorful food.
All grills are available with an infrared rear rotisserie burner and rotisserie set which includes spit rod, meat forks, and porcelain basting pan. Two position system maintains proper distance from the infrared burner to control efficient browning and to contain more juices. Rotisserie motor has 100 lb. turning capacity.
Dine and Breakfast Club
A great companion to your grill, our innovative Dine & Breakfast Club is perfect for family breakfast outside, or complement your evening barbecue with grilled shrimp, scallops, chicken or sauteed vegetables.
Salamangrill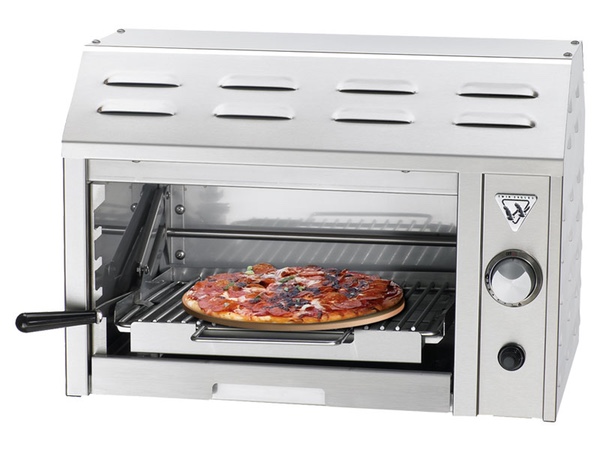 Upgrade your outdoor kitchen to include the revolutionary design of our patented Salamangrill which cooks with a gas infrared burner mounted over the cooking grid. The burner generates 1,700 degrees of heat at the burner surface in 90 seconds. This unique cooking style retains juices and flavor without flare ups.
Outdoor Bar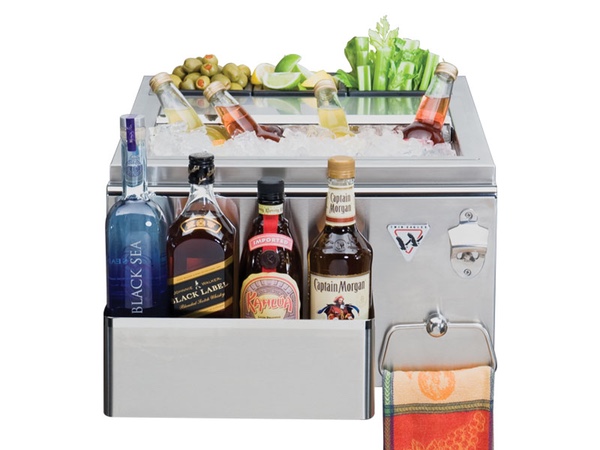 Great beverage center for outdoor entertaining. Includes an insulated ice compartment that holds up to 40 lbs of ice. Three specially designed compartments keep beverages cool and condiments fresh.
More about Twin Eagle.
CALL PRO-DECK (609) 771-1100